Price Plans
POLICY.
- We accept all major credit cards, debit cards, bank transfers, and PayPal payments
- Please read Our Policy
- Orders will be rebilled automatically. If you want to cancel EasyETFTrade.com service, you must contact EasyETFTrade.com customer service directly (send e-mail to: info@easyetftrade.com before the billing date with your Customer user.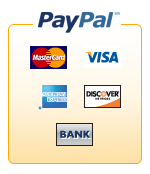 All memberships are verified for fraud prevention
PayPal is the authorized retailer of services provided EasyETFTrade.com
Before you subscribe please read our Disclaimer first

CLICK OVER THE PLAN

1 Month Subscription $79.95
3 Months Subscription $195.95 (You Save $43.90)
6 Months Subscription $359.95 (You Save $119.75)
12 Months Subscription $659.95 (You Save $299.45)

Copyright © 2013 EasyETFTrade.com. All rights reserved. Data and information is provided for informational purposes only. Neither EasyETFTrade.com.com nor any of its data or content providers shall be liable for any errors or for any actions taken in reliance thereon. Stock trading has large potential rewards, but also large potential risk. You must be aware of the risks and be willing to accept them in order to invest in the stock markets. Don't trade with money you can't afford to lose. EasyETFTrade.com.com is not a registered broker-dealer and does not endorse or recommend the services of any brokerage company. The brokerage company you select is solely responsible for its services to you, the user. EasyETFTrade.com.com shall not be liable for any damages or costs of any type arising out of or in any way connected with your use of the services of the brokerage company. All published results are hypothetical gross results without adjustment for trading cost. (commissions, fees & slippage).

E-mail: info@easyetftrade.com